I'm Not Alone (Album) by Damilola Oluwatoyinbo | Download Free mp3
I'm Not Alone (Album) by Damilola Oluwatoyinbo: Nigerian preacher and gospel musician, Damilola Oluwatoyinbo presents a new album project marked, "I'm Not Alone."
In his words, "I felt alone one night. It was 2018, and I was in the middle with a lot of responsibilities. I had just planted a church the previous year and was pouring out a lot of resources into it – spiritual, mental, emotional, financial and material. "
"In this same season, I have my first 18-month-old son, and my wife is pregnant with our second son. We were in the planting season. We donated more than we received, plowing and sowing seeds.
At the time, however, some of our friends and acquaintances, who we felt could be found just to enjoy themselves, were not significantly and emotionally distant. " – Damilola says.
"In fact, some were reported to have spoken out loud, and they could not directly deny the statements when I spoke to them.
As I prayed one night in our kitchen – pouring out my heart to God and talking to Him as a friend, waves of inspiration began to pour in like music into my heart.
I meditated, meditated and continued to record these sounds until the full song became the seed of this album. In the space of three years, I have been blessed with a lot of songs and included ten of them on my first album. " – Concludes Damilola Oluwatoyinbo.
Oluwatoyinbo, known in many circles as a talented and talented musician, has a keen interest in uniting people's hearts with God through inspired words.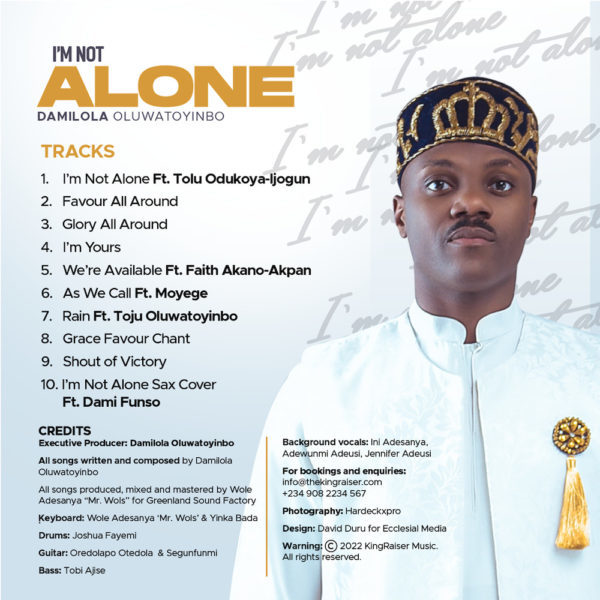 He is an eloquent speaker, a passionate songwriter, a devout worshiper and a powerful KINGS teacher.
This new ten-song album is produced by Wole Adesanya "Mr Wols" of Greenland Sound Factory.
Tracklist:
1. I'm Not Alone ft. Tolu Odukoya-Ijogun
2. Favour All Around
3. Glory All Around
4. I'm Yours
5. We're Available ft. Faith Akano-Akpan
6. As We Call ft. Moyege
7. Rain ft. Toju Oluwatoyinbo
8. Grace Favour Chant
9. Shout of Victory
10. I'm Not Alone (Sax Cover) ft. Dami Funso
Kindly give us two minute from your time to follow our social handles... Click on social media logo below to follow...Thanks