Maje Ntan by Evang. Adeyemi Taiwo Elizabeth | Download Free mp3
Maje Ntan by Evang. Adeyemi Taiwo Elizabeth: Gospel singer Evang. Adeyemi Taiwo Elizabeth popularly known as Ayanfe Baba has come out with another new music titled; Maje Ntan.
"Maje Ntan" is a song about a busy life, a meaningless life, an old life.
This is a prayer song to ask God to save us and never to be a tired person.
Everyone on earth has a purpose called destiny. You are not sent here to study, succeed, get a job, get married, grow old and die! If that is the meaning of life, I would confidently say, "What did God think when He created it?" But that is not the case.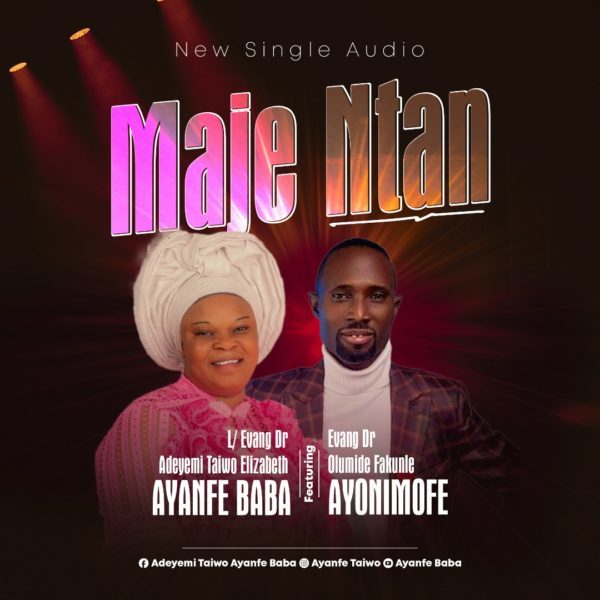 If life is deprived of the same idea or purpose as your destiny, it is better that you are physically dead, because what good is a dead person alive.
Judas lost his purpose in something else but died. Gehazi lost his purpose but ended up with leprosy and his descendants, forever.
Samson forgot his purpose for the woman but ended up blind, ashamed, defeated, and died.
But Jesus Christ accomplished His purpose and I know He will accomplish yours in Jesus' name.
"Maje Ntan" is a song you should listen to. It will remind you of your reason for being in the world and make you pray as you walk through that Unknown place called the earth.
Stream, Download & Share 'Maje Ntan!'
Maje Ntan by Evang. Adeyemi Taiwo Elizabeth | Download Free mp3
Kindly give us two minute from your time to follow our social handles... Click on social media logo below to follow...Thanks